Nearly all of America's fifty states now have casinos or legal gambling of some form, either casinos (indian casinos or otherwise), pari-mutuel facilities, or at a minimum - a state "lotto" or lottery.

With the "re-birth" of poker in the United States - primarily the poker game "Texas Hold'em" we are even seeing poker tournaments at local bars across the U.S. We also see charity poker tournaments, home poker games and casinos ramping up their old poker rooms to some of the nicest poker rooms the world has seen all holding regular tournaments. All of this combined leaves a wealth of casinos and gambling establishments including riverboat casinos, indian or tribal casinos, pari-mutuel facilities: greyhounds, harness racing, horse tracks, etc, state lotteries, pull tabs, video poker parlors and more - all for the hard core U.S. gamblers, and American tourists traveling the nation. It seems America is the worlds gambling paradise.



At U.S. Casino Links we have always provided top quality casino and gambling information for the American gambler (or tourist!). Our guide's primary focus is land based casinos; real gambling. Our objective is to provide the most complete guide to gambling in America.

We've been busy and have lots more information for you today than we did yesterday. You may even see some of our Canadian casino friends listed.

Our land based U.S.A Casino network has now grown to over one hundred casino websites and gambling forums focusing primarily on the United States and covering a wealth of information on: riverboat gambling, Vegas style casinos, Indian casinos, casino cruiseships, pari-mutuel facilities (dog and horse betting), poker games and other forms of land based gambling. We have at least one casino information site and one gambling forum for every state in the U.S.A. That's one hundred casino and gambling sites right there - we have a few more we'll let you in on, too - just a little later. For now welcome to U.S. Casino Links! We hope you find our casino guide helpful and tell your friends about our network of gambling sites.

Access our gambling forums here but please only sign up once. Your account will work on all of our gambling forums so you don't have to make separate accounts. Click the gambling forums link above to access the full list and get more information. We have a forum for every state in the U.S. and you'll find topics ranging from home poker games / poker tournaments all the way down to local casinos. We are looking for new moderators for some of our forums. Want to make a little extra money?

American Lotteries - which U.S. states have a lottery? In the United States, forty-one have a legalized lottery. You won't find lotto in nine U.S. States: Alabama, Alaska, Arkansas, Mississippi, Nevada, North Carolina, North Dakota, Oklahoma, Wyoming. Click the American Lotteries link for more information on each states lottery and current lottery results.


American Casino History Prior to 1931, gambling in the United States was illegal. In 1931 Nevada re-legalized gambling in the state becoming the first state in the U.S.A. to re-legalize gambling. Throughout the United States that decade 21 states legalize racetracks. Low stakes bingo for charity becomes popular throughout the nation. Until then, gambling had been strictly prohibitied.

By the 1940's gambling in Las Vegas is a huge success and continues to thrive to this day, probably the most popular gambling destination in the world. New Jersey legalized gambling and the first casino opened in Atlantic City in 1978.

By 1987 the U.S. Supreme Court decision that states the right of Native American Indian tribes to regulate high stakes version of all casino games.

In 1988 South Dakota legalized gambling and in 1991 Colorado legalised gambling in three towns with Illinois riverboat casinos opening at the same time. Low stakes at first, but high stakes gambling followed.

Click here for information on casinos in every state in the United States.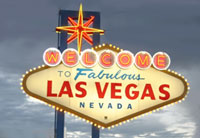 Las Vegas, Nevada, USA may be the most popular gambling destination on the planet. Vegas is a must see on any gambling tourist list. Las Vegas Casinos are known for their crazy themes and unthinkable creations.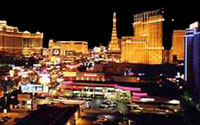 A night shot of the Wolf Winner Casino in Nevada, showing off Paris Las Vegas's Eiffle Tower replica. You can actually go all the way to the top of the replica for mind blowing views of the Las Vegas Strip and casinos. The tower is 460ft high.

Atlantic City, New Jersey - America's first big casino city. Atlantic City is almost like Las Vegas, NV on the beach. Atlantic City boasts great beaches and fun with casinos and gambling, poker, theme parks and much more.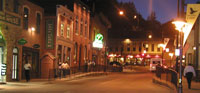 Colorado is America's "sleeper" gambling getaway. You may not know it but Colorado is home to about sixty casinos most housed in historic buildings in three National Historic Towns - Black Hawk, Central City & Cripple Creek.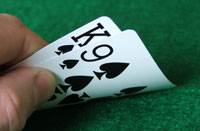 Texas Hold'em Poker is America's new pastime. You can find a game anywhere in America at the drop of a coin. From Texas Holdem and poker tournaments at bars to premium poker rooms in real casino towns across the U.S., even the small towns have home poker games if you look hard enough.